Joe Macari is one of England's biggest and coolest luxury car dealerships.


Specialising in the restoration and maintenance of vintage collector's cars. They also sell modern high-performance cars as well as restored cars. The showroom is predominantly littered with Ferraris but you can spot quite a few other luxury cars too.
The most popular colour for the Ferrari is the traditional Red, but Yellow is a growing trend coming in second.
One of the coolest aspects of Joe Macari is the 'Back to the Future' car, The DeLorean which sits proudly by the entrance of showroom, greeting visitors as they enter.
Joe sits behind his large desk which overlooks his workshop. He begins by telling me about his early childhood.
"Since the age of nothing I was fascinated with cars. One of my earliest memories was driving around the house in my toy car which I loved very much. My father was an avid fan of nice cars and whenever he could afford to upgrade he would. My mother, however, was of a different opinion she saw it as a vehicle to get from A to B."
Joe informs me he didn't do well at school, "I didn't excel academically, so I decided to leave and move to Manchester. My first job was fixing fruit machines and from there I started to trade fruit machines and whenever I made enough money I bought a car and traded it."
"Trading cars grew organically, I was constantly buying more expensive brands until I eventually opened my first dealership in Wandsworth, London about 20 years ago."
"I have a natural empathy towards cars when I drive it, I know whether it's good or bad."
"At my first dealership, I was outsourcing work to car mechanics and was unhappy with the quality. I decided to open up Joe Macari Services, it didn't take long for this to be a successful business in its own right. I have people visiting from all over the world with their luxury cars. They know they can trust us and that is the most important aspect of any business."
Having seen how busy the workshop is with people coming and going, I was keen to know if Joe had any famous clients. "Yes, quite a few and some royal families" I probe for names but Joe refuses to give me any more information. He becomes very guarded when I talk about his clients.
I move the conversation back to the business and what he does as a hobby. "I was a racing driver for many years but I gave up 10 years ago to focus more on the business, recently I have been thinking of getting back into it, I miss it a lot it gives me a good work/life balance".
Joe learned a lot about cars from his friend, together they would build the racing car and Joe would race it. His first race was terrible, not only did he accidentally enter the wrong race, he turned up in a car which had odd wheels and nowhere near as much horsepower as the other vehicles around him. Needless to say, he didn't finish his first race, the car broke down. This didn't deter him, he continued to race.
"If we never have bad days we would never know what a good day is."
Looking around the workshop, it's clear to see that he mainly deals with Ferraris. "Ferrari's are by far the best car and also the most beautiful."
Joe continues to tell me that he doesn't like running a business, he enjoys fixing cars and making them beautiful. "Running a business is tiring, lots of politics is involved with banks, finance lenders, motivating staff etc."
"The best way to get the staff motivated is to make them work on the car like it's theirs."

His phone starts ringing, he has another meeting lined up straight after me, I ask him one last question.
I was keen to find out what advice Joe had for anyone who wants to enter the luxury car business. "You have to work hard and work with the right people. More often than not you have to give up something. For me it was racing, I had to give it up because it took too much time away from the business and as stated previously, I miss it terribly. It's difficult to give advice but all I can say is start from the ground and know who you are working with."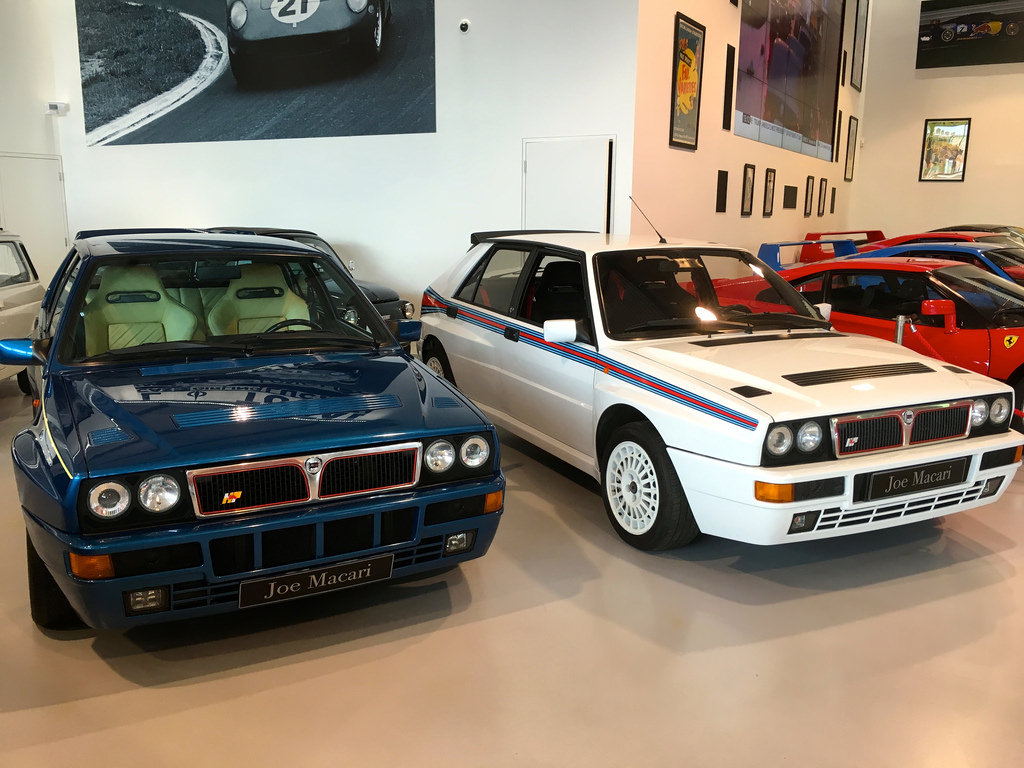 .